Threat & Vulnerability Assessments for:
Public & Private Schools, Colleges & Universities, Trade Schools and Vocational Centers
A threat and vulnerability assessment is a comprehensive examination of a school's physical facilities and operational procedures for the sole purpose of ensuring the safety and security of students, faculty, staff, and visitors. The assessment will identify critical assets, threat potentials, and vulnerabilities in relation to threat potentials. It will focus on many different areas of the school, including vehicle access, parking, access control, classrooms, closed circuit TV, lighting, mail handling, utilities, intrusion detection, communications, and emergency preparedness. School design, CPTED (Crime Prevention Through Environmental Design) integration, overall security culture, and student/staff interactions are also evaluated.
The assessment procedure consists of the assessor reviewing the school building's physical components and procedures with an administrator, as well as completing a thorough tour of the building(s) & campus. Additionally, we conduct a lighting and nighttime site survey on a night prior to the assessment to ascertain lighting levels in critical areas, as well as general nighttime security. In an instance of proposed new construction, the assessment will be conducted utilizing construction drawings and digital models, as well as consultation with school administration, architects, and other applicable stakeholders.
At the conclusion of the assessment, we deliver a confidential, user friendly written report containing observations, existing positive school security measures, leading practices, and specific recommendations for modifications or improvements in over 290 individual standards among approximately 31 categories, in compliance with the PA School Safety & Security Committee Safety & Security Assessment Criteria. The report is designed to provide administrators with significant and purposeful information that can be easily referenced and interpreted. We also assist in finding solutions that balance optimal security measures with school culture and budgetary allocations. Once the administration has reviewed the report, a meeting with the assessor can be scheduled for questions and clarifications.
VSG recommendations are designed to assist schools in preventing incidents by reducing opportunities, as well as in mitigating the impacts of incidents when they do occur. We firmly believe that a school's comprehensive security posture relies on "Three Pillars" of Safety & Security: Physical Security; Protocols/Procedures; and Education/Training

.

 All three pillars act in concert with one another to create a safe and secure environment for learning. A flaw in any one of the pillars can create a weak link or vulnerability which threatens the whole.
Our assessments are conducted and/or approved by an ASIS certified Physical Security Professional (PSP®) with extensive experience acquired as a member of the Pennsylvania State Police Risk & Vulnerability Assessment Team. All of our assessors are approved by the Pennsylvania School Safety & Security Committee as threat & vulnerability assessment providers, as listed on the Pennsylvania Commission on Crime & Delinquency School Safety & Security Provider Registry.  We have conducted hundreds of K-12 school security assessments throughout the Commonwealth of Pennsylvania. Additionally, our on-site assessor(s) possess the necessary criminal history clearances from the Pennsylvania State Police, Pennsylvania Department of Education (FBI Criminal History; Child Abuse Recognition and Reporting), and Pennsylvania Child Abuse History.
A threat and vulnerability assessment is a cost-effective measure that school administrators can utilize in the prevention and mitigation of  a variety of criminal incidents on campus, particularly armed intruder events and terrorist acts. Other threat considerations in an assessment include natural & manmade disasters, extreme weather incidents, and hazmat events. 
VSG recognizes the individual safety and security needs of elementary and secondary schools. We understand that administration, teachers, and parents in most cases prefer a balanced, rational approach to improving security without adopting a fortress-like atmosphere. In conducting our assessments, we are very cognizant that security strategies must be tailored to each school district, as well as each school within a district. VSG's assessments achieve the proper balance between security and educational environment, while creating a comprehensive security profile that is consistent throughout the entire school district. 
VSG is very proud to have participated in the development of Pennsylvania's new ground-breaking school physical security assessment criteria by serving on the Pennsylvania Commission On Crime & Delinquency (PCCD) Physical/Policy/Training Assessment Criteria Workgroup and the Provider & Registration Criteria Workgroup, both of which advised the PA School Safety & Security Committee in fulfilling the mandates of Act 44 – Pennsylvania's new School Safety & Security law.
Strategies provided in VSG's assessments have proven to save lives, prevent/mitigate injuries, and create the secure learning culture desired by students and parents. We also assist in finding solutions that balance optimal security measures with a nurturing learning environment and budgetary allocations. A threat and vulnerability assessment is an invaluable tool in affirming the safety and security of the students, staff, and visitors of your school.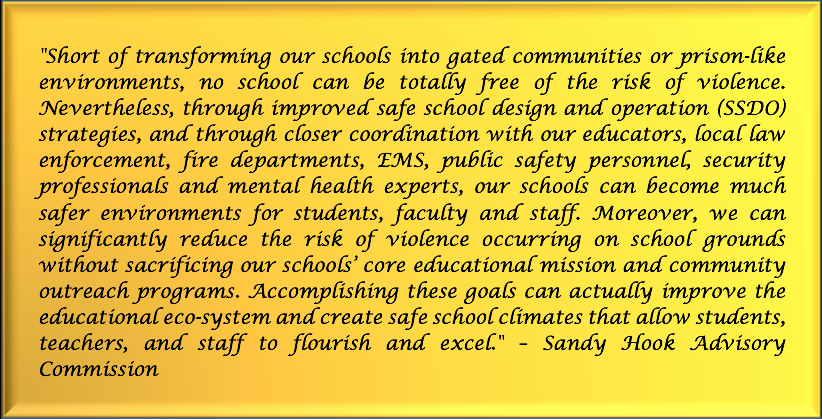 Why Choose VSG?

Because of our qualifications and experience. The safety and security of your students and staff members is far too important to trust a firm who claims to be competent in conducting school risk & vulnerability assessments, but has little to no experience or qualifications. The simple fact that an individual has a law enforcement, military, or tactical background does not qualify him/her to be knowledgeable in the area of physical security of a school building or school security policies. Most police officers never work in the field of physical security in the course of their careers.  Think of  it this way: would you trust a math teacher over a CPA to prepare your taxes? The same considerations hold true in school safety & security. 

Some items to consider before hiring a consulting firm to conduct threat & vulnerability assessments within your school district:

-Are they or do they have personnel with industry association physical security professional certifications such as ASIS Physical Security Professional (PSP), ASIS Certified Protection Professional (CPP), or a graduate of U.S. Department of Homeland Security Physical Security Training Program?

-How many K-12 school assessments have they conducted? If this number is under 20, beware. Consultants should have experience in conducting assessments at various types of schools: large, small, public/charter, private, technical, urban, rural, suburban etc.

-Are their reports thorough, detailed, and tailored to the specific school building assessed? Do they contain actual evaluations or are they merely checklists? Are they user friendly and easy to reference, yet not excessively wordy or so lengthy that administrators will not read them?

-Do they assist in finding solutions for vulnerabilities that present particular issues or require expensive corrections?

-Do they promise to complete a large number of assessments in a very short period of time?  If so, their product will be substandard, as thorough assessments take considerable time to evaluate the information and formulate appropriate recommendations. 

-Does the consultant stress not only physical security parameters, but also school security culture and student/staff interactions?

-Do they have enough qualifications and experience to allow your district administrators to feel comfortable defending their selection in a court of law if necessary?

At VSG, our ASIS certified staff has conducted hundreds of K-12 school threat & vulnerability assessments at institutions ranging from inner city to rural to suburban, including public/charter,  private, and technical schools. Our experience with a wide range of school sizes, types, and locations, as well as administrators, students, and community members, positions us as one of the few truly qualified firms in Pennsylvania and surrounding states to conduct a threat & vulnerability assessment of your campus.

VSG is Business Member of Pennsylvania Association of School Business Officials (PASBO)

Member: ERTCA (Emergency Response Training & Certification Association)

What is PSP Certification? 
The ASIS International Physical Security Professional (PSP®) is a board certification attained by a security professional who has demonstrated knowledge in physical security assessments, application, design & integration of physical security systems, and implementation of security measures. The ASIS certification program is the first and only program of its kind to be awarded a coveted Designation by the U.S. Department of Homeland Security (DHS) under the Support Anti-Terrorism by Fostering Effective Technology (SAFETY) Act of 2002. The SAFETY Act Designation gives ASIS board-certified professionals, their employers, and their customers immediate protection from lawsuits involving ASIS certification and the ASIS certification process that arise out of an act of terrorism. Not only does it limit the types of liability claims that can be brought against a certificant, but it also entitles the certificant to immediate dismissal of those specific types of claims. For more information on the ASIS certification program and the SAFETY Act designation, refer to https://asisonline.org/certification/asis-board-certifications2/safety-act-desigation/
Online & Mobile Staff Training
VSG has formed an exclusive partnership with the EdJIT mobile content delivery platform to provide customized, mobile-first, continuous education to all school personnel directly onto their mobile devices or PC's. Not only will school personnel have access to the latest courses on up-to-the-minute security protocols, the rapid content creation features of the EdJIT platform allow VSG staff to create custom training modules tailored to an individual school building in real time. Training and emergency courses include nuances and vulnerabilities that are distinctive to a particular building. These details are presented to staff through creative and easy to follow modules, including drone and point-of-view videos which make emergency protocol implementation very simple. Drone video footage also assists in identifying and displaying unique dangers and terrain features surrounding schools that staff should be aware of. Emergency protocol modules include items such as safe rooms, doors & windows, locks, exits, terrain, utilities, etc. that vary from building to building. These can be combined with simplified instructions, taken from a school's all-hazards plan, that staff members can easily access and follow in an emergency. Nowhere in the marketplace does such real-time, customized intelligence exist in conjunction with expert, reliable security consulting services.
VSG has taken the time to understand the needs of school districts and has found that each district is unique. No longer can districts rely on off-the-shelf learning management systems that try to be all things to all people. These systems tend to be counter-intuitive, burdensome on their users, and fail to deliver on their value propositions. Districts need simple access to real-time, custom tailored content that has significant meaning specifically to them.
Security is the responsibility of everyone on the grounds of a school, and VSG equips all personnel with the tools needed to identify, report, and monitor any threat that may exist on the grounds. This ongoing instructional tool set helps ensure that school districts not only reduce their vulnerabilities, but uniquely enables them to instruct their personnel, sustain security best practices, and most importantly, change their district culture to one of being security-first.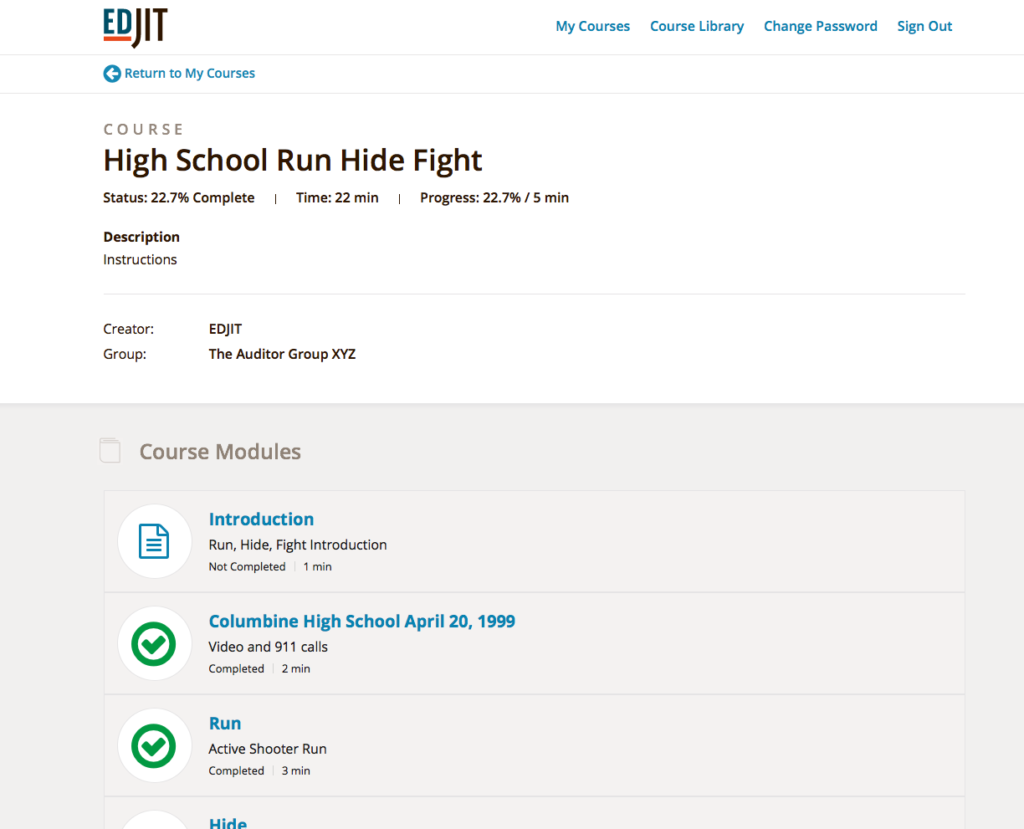 © All Rights Reserved Vulnerability Solutions Group 2023